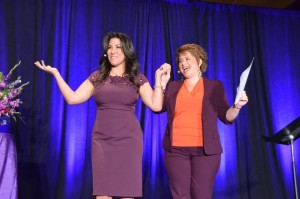 Speaking can be one of the most powerful ways to attract your Ideal Clients and effectively convert prospects into buyers. You know you have a message to share or something you want to teach, so now you just need to figure out how to structure your talk to connect with the people who will benefit most from your expertise.
Giving a talk is an incredible way to reach more Ideal Clients and have them immediately wanting to work with you … if you do it the right way. In order to make the most of your time in front of an audience, you need to make sure the talk you create is powerful, effective and gets your offer across without feeling too pushy.
Here is a list of techniques I call "Talk Maximizers" that will boost your content's value and help you use your message to connect with your Ideal Clients. When you use these elements in your talk, you'll be able to make the most from your speaking engagements, both online via teleclasses and webinars, and offline in live talks, workshops, seminars and more.
1. Use an introduction that creates credibility and vulnerability.
2. Interact with your audience by using HMOY questions like, "How many of you struggle to find the perfect words for your marketing?"
3. Organize your talk around 3 main teaching points that relate to your program.
4. Highlight your skills and talents by sharing stories about results your clients have gotten from working with you.
5. Address the top 3 potential questions people usually ask about your offer BEFORE your audience brings them up.
These final tips comes directly from Lisa Sasevich, The Queen of Sales Conversion, who is a genius at creating a "Signature Talk" that connects with the hearts of your Ideal Clients:6. Use a limiter such as a special discounted price or a set of bonuses that are only good until the next break or the end of the day to move your ideal clients from "thinking about it" to taking action.
7. Use a transition line like, "Now, let's see how you can use this information to create lasting transformation," to shift from your final teaching point to your offer.
This taking action piece is a vital part of the puzzle. As Lisa S says, "If you want to inspire on-the-spot action in your ideal clients without being salesy, you need to give them everything they need to be able to make a decision, yes or no." Make sure that at the end of your talk, you clearly invite your audience to take a next step. It may seem like this is a no-brainer, but it's necessary for you to ask people to make a move and be clear on exactly what they need to do. Oftentimes, a simple, "Come visit me in the back with your summary sheet," or, "Visit the website to apply for your business breakthrough session," is all you need to inspire folks to take advantage of your offer.
If you want to learn how to create your Signature Talk from The Lisas, join us at the Speak-to-Sell Bootcamp event. Get all the details here.