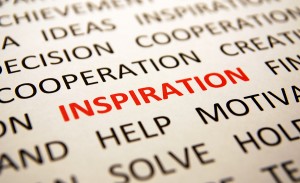 Have you ever had an idea that started from nothing and made it a reality? My Juicy Marketing programs came from my notion of wanting to help people find the perfect, authentic words for their businesses. When I first had the idea, I caught myself over analyzing and I almost put it aside. After all, I had tried to offer other programs before and they had never taken off. Why would this one be different?
Of course, I realize now after helping thousands of clients over the past 13 years, that my Juicy Marketing idea was different because it came from divine inspiration – not from my just trying to figure out a way to make more money. And, because I learned how to sit with my feelings and allow inspiration to come through from a higher place, I was able to follow the direction that led me to the success I enjoy today.
When we allow divine inspiration to come through, it's amazing what we can accomplish. The Universe (Spirit, Angels, God, or whatever you call it) is here to steer you toward your dreams, but we often block the guidance. Not surprising since we don't often accept help from people, let alone something we can't see. We seem to have a need to do things all on our own and then we get stressed when we find ourselves without a helping hand. The stress is our signal that we're not in the flow, which means we REALLY don't hear The Divine when it tries to guide us and offer support.
Step-by-Step Guidance
The irony is that we often look to the ceiling, arms raised in surrender, and ask Spirit for help, but we don't listen when it arrives. Unfortunately, most of us are unable to open to divine inspiration and its step-by-step guidance. The ideas from this higher place are meant to be seen through to fruition, so you will always be given the tools to do that. The important thing is: how do you make sure you're paying attention?
Sit, meditate and stop long enough to listen.
Truly, when was the last time you allowed your feelings to happen without trying to figure them out? Feelings are meant to be released, not analyzed. When you walk, write, eat, drive, work, sing, dance, laugh or cry, give yourself the space to simply feel. Take the time to sit and experience, then bring yourself back to the present moment. Then, like Eckhart Tolle wrote in The New Earth, "As you become present and thereby total in what you do, your actions [will] become charged with spiritual power."
Are you resisting?
Make today the day to allow your dreams to come through to reality. Don't get overwhelmed by your challenge, just notice your feelings and be with them. Then make a move, lean into the edge and enjoy the journey. Hold onto your divine ideas, ask the Universe for help, and … pay attention when it arrives. Because, if there's one thing I know for sure, it's that when you ask for divine assistance, it will always come to you.
---
Lisa Cherney, a.k.a. the Juicy Marketing Expert, founded Conscious Marketing 12 years ago to help small business owners find their authentic marketing voice, attract their ideal clients and increase their sales. Following her own Stand Out & Be Juicy program, which centers on owning your unique self and laser-focus marketing, Lisa has tripled her income while working
part-time.
Prior to Conscious Marketing, Lisa worked with many Fortune 500 companies, including AT&T, Lipton, Nissan, Blue Cross and Equal. She is a highly sought after speaker and often shares the stage with experts such as Jack Assaraf (The Secret), Jack Canfield and Jill Lublin. Learn more about Lisa at www.consciousmarketing.com or call 887-771-0156.